Waterloo, Ontario, Canada – June 27, 2017 – Huron Digital Pathology, a Canadian provider of imaging hardware and software solutions for digital pathology, today broke ground on a new 9,700 square foot research and development and manufacturing facility at 1620 King Street North in St. Jacobs, Ontario. Construction of the new building is expected to be complete by the end of 2017 and will be situated on 1.5 acres of land, allowing for future expansion. Frey Building Contractors are serving as building contractors for the project.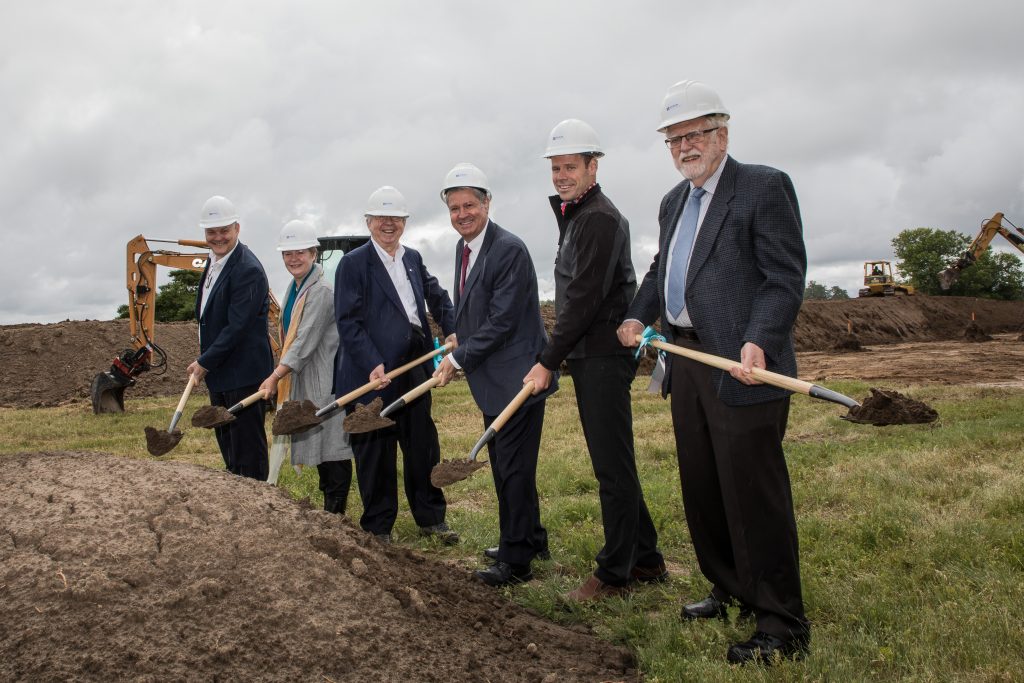 From left to right: CEO Patrick Myles, board members Christine Chamberlain, Savvas Chamberlain, Mike Panayi, Frey Construction President Ryan Martin, and board member Ted Dixon break ground.
Huron Digital Pathology's products are driving the growing adoption of digital pathology workflows to improve patient outcomes and accelerate cancer research and neuroscience investigation. Huron Digital Pathology's award-winning TissueScope whole slide scanning platform has been deployed at high profile hospitals and research institutions across North America and in Europe.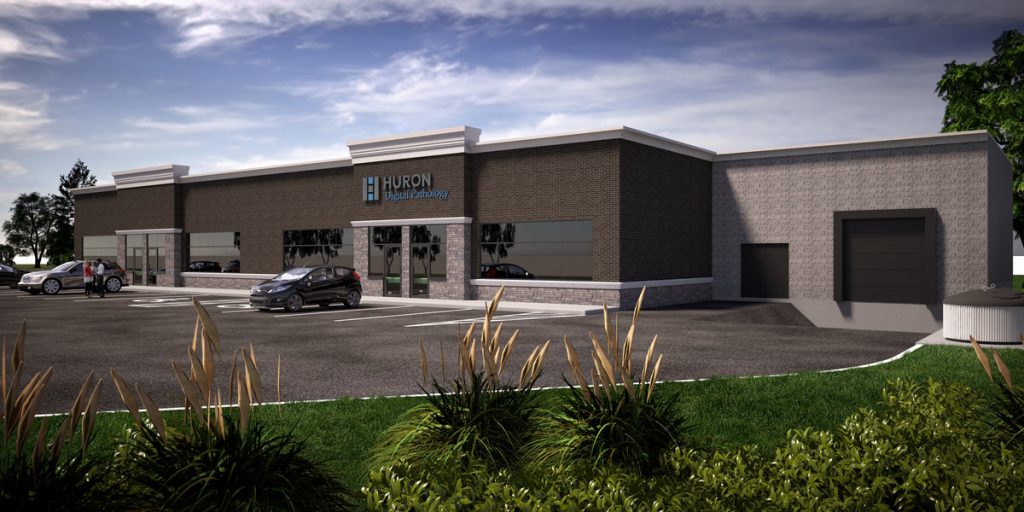 Architectural rendering of the new facility. 
"Digital pathology workflows are becoming more mainstream, which is increasing demand for Huron's products," said Patrick Myles, CEO of Huron Digital Pathology. "Our new facility in St. Jacobs will allow us to significantly expand our manufacturing capacity to meet the needs of larger customers and our growing customer base."
"I am happy that through our company we are improving the health and well-being of our society," commented Dr. Savvas Chamberlain, Chairman of Huron Technologies International Corporation, the parent company of Huron Digital Pathology. "Our new facility will speed up our progress in developing hardware and software that assist pathologists in making better diagnosis of serious disease."
Sandy Shantz, Mayor of the Township of Woolwich added "Woolwich is an ecosystem of innovation and collaboration. Huron Digital Pathology's move to Woolwich is a powerful invitation for others to join us as they forge their success in an environment that has a diverse economy and a strong commitment to supporting those who are inspired to start or grow their business here. Woolwich is thrilled to welcome Huron Digital Pathology to the township."
"We are indeed excited to congratulate Huron Digital Pathology on the ground breaking of their new facility in Waterloo Region," commented Tony LaMantia, President and CEO of Waterloo EDC. "Huron Digital Pathology is a great Medical Technology success story in our community and we look forward to continuing to support their growth."
The Village of St. Jacobs is in the Township of Woolwich in the northeast sector of Waterloo Region.
Media Note: A high resolution architectural rendering of the future building, as well as photos from the event, can be downloaded here.
About Huron Digital Pathology
We believe that innovation is the key to making digital pathology a ubiquitous reality. But for us, innovation is about more than just delivering great image quality and fast scanning speeds. It's also about designing products that are simple to use, easy to integrate with your workflow, and have attractive price-performance characteristics.
Based in Waterloo, Ontario, Canada, Huron Digital Pathology has a 20-year history designing sophisticated imaging instrumentation. Our end-to-end digital whole slide scanning solutions for digital pathology incorporate our award-winning TissueScope™ digital slide scanners and TissueSnap™ preview scanning station and Huron Image Manager. Visit us at www.hurondigitalpathology.com.
The TissueScope™ scanner is intended for research and educational purposes only.
###
Contact
Patrick Myles
(519) 886-9013